L. Ron Hubbard stands as among the world's most enduring and widely read authors with over 350 million works in circulation, including international sales of some 50 million works of fiction.
In testament to the magnitude of his literary oeuvre and legacy, there are his four Guinness World Records: most published author, most translated author, the author with the most audiobook titles and the single most translated non-religious work.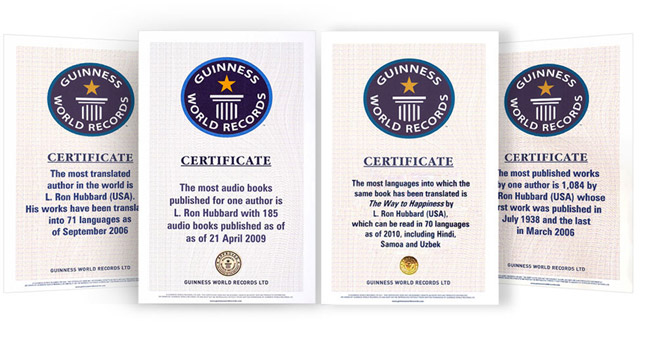 While within even one genre—science fiction—L. Ron Hubbard's stamp is both indelible and unmistakable. Consider, for example, his Battlefield Earth: A Saga of the Year 3000. Described by science fiction legend A. E. van Vogt as an unqualified masterpiece, the 428,750-word epic was not only a sensational international bestseller, but the recipient of numerous international literary awards.
In addition to both the Academy of Science Fiction's Saturn Award and a special Gutenberg Award as an exceptional contribution to the genre, the work has earned Italy's Tetradramma D'Oro Award in recognition of the story's inherent message of peace. It has since been published in scores of nations, translated into dozens of languages and serves as a model work in several colleges and universities.
And while Battlefield Earth marked Mr. Hubbard's monumental return to fiction after an absence of thirty years, his 1.2 million word, ten-volume Mission Earth series is rightly considered as his magnum opus. A biting satire, it has not only drawn comparison to the likes of Jonathan Swift, but stands as a publishing phenomenon, with no less than seven volumes riding the bestselling hardcover lists at one time. Given its massive impact, Mission Earth was also the recipient of numerous literary awards, including France's coveted Cosmos 2000 Award and Italy's Nova Science Fiction Award. (Mr. Hubbard, incidentally, was the first non-Italian to receive the Nova.)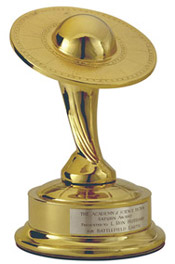 Saturn Award—Academy of Science Fiction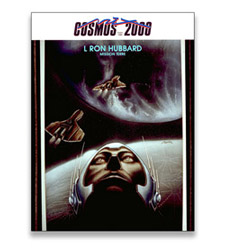 Cosmos 2000 Award—French-Speaking Readers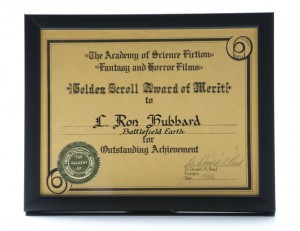 Golden Scroll Award—Academy of Science Fiction, Fantasy and Horror Films
Gutenberg Award—Presented to L. Ron Hubbard as a special tribute for Battlefield Earth and his exceptional contribution to science fiction literature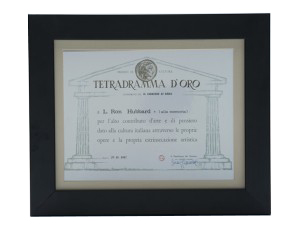 Tetradrama D'Oro Award—Presented by Il Corriere newspaper for the message of peace contained in Battlefield Earth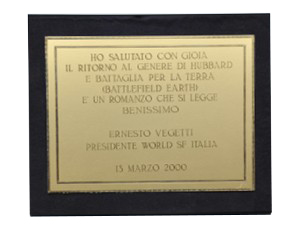 World SF Italy Award—Acknowledgement presented to L. Ron Hubbard from the President of the World SF Italy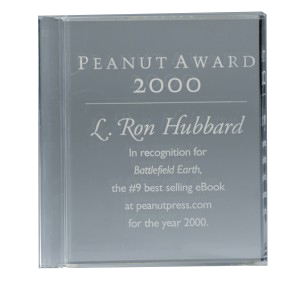 Peanut Award 2000—Battlefield Earth, #9 on peanutpress.com's Bestseller list for the year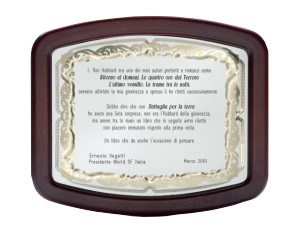 World SF Italy Award—Acknowledgement presented to L. Ron Hubbard from the President of the World SF Italy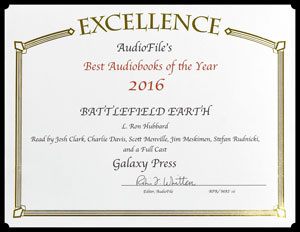 Best Audiobok of the Year 2016—AudioFile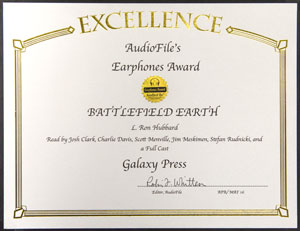 Earphone Award 2016—AudioFile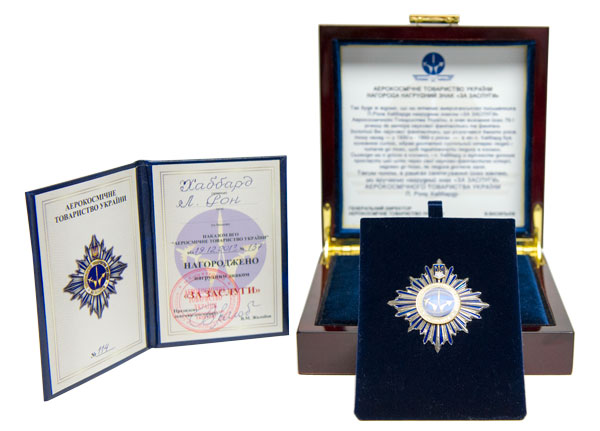 Star Order of the Aerospace Society of Ukraine—Aerospace Society of Ukraine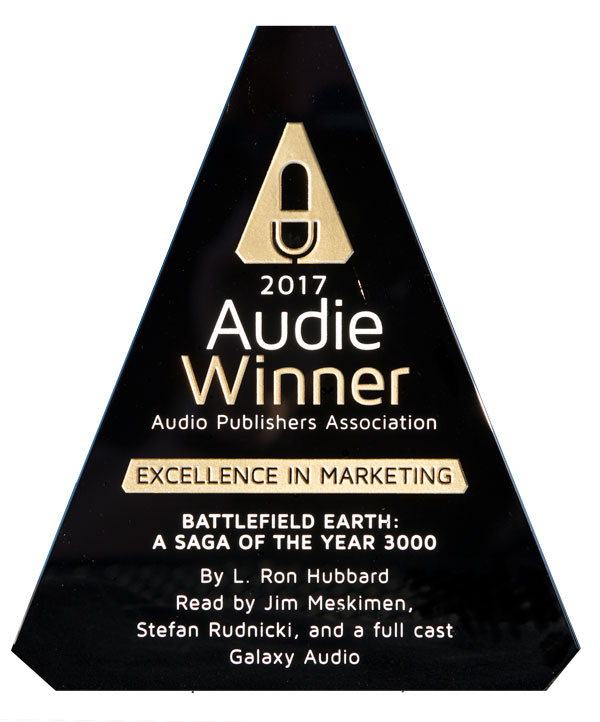 Audie Winner Award—Audio Publishers Association