Get a sneak peek of the Battlefield Earth paperback release
Following the very successful 2016 re-release of Battlefield Earth as a trade paperback and the Audie Award winning full-cast audiobook, both of which went to the #1 spot in the US, we are now preparing for our fall release (September 5th) of the mass market paperback edition.
In talking with many of our Battlefield Earth fans both online and in person at conventions, we know they love how the characters come to life in the novel through L. Ron Hubbard's storytelling ability. So, with that in mind, we assembled some of the principal characters from the book for a photo shoot and we thought you would like a sneak peek.
For the photo shoot, it seemed a natural to ask Dennys Ilic, both as an internationally renowned editorial portrait photographer and author of the just released photographic book The Men of Science Fiction, to do it. Dennys, who grew up reading science fiction including Battlefield Earth when he was young, told us it was one of his favorite books and so he readily agreed to the shoot. So here's how it went:
The first step was to go over with Dennys exactly what we wanted to achieve. Here the art director and Dennys discuss the mood, lighting and poses.
That accomplished, we had Taylor Latham, an up-and-coming Hollywood makeup artist, prep each of the models. She did a fabulous job as you can see.
We started with Aaron Groben as Jonnie Goodboy Tyler. Aaron, you may remember, performed as Jonnie when we crashed a spaceship on Hollywood Blvd last summer to announce the release of the trade paperback edition of Battlefield Earth. Needless to say, that got a lot of media attention.
Next was the beautiful Pia Lamberg, a Finnish actress, model and beauty pageant titleholder (Miss Finland 2011), who was photographed as Chrissie.
In Battlefield Earth the Scotts play a key role in the liberation of Earth when they join forces with Jonnie and our shoot wouldn't be complete without one. For the role of the Scottish warrior Dunneldeen, we asked Gregory Kenyon, who also performed on the Battlefield Earth audiobook, to do the honors.
And last but not least was Papp Johnson as Terl. Papp has become a regular for the Terl character, last seen at the San Diego Comic Con greeting fans and signing autographs.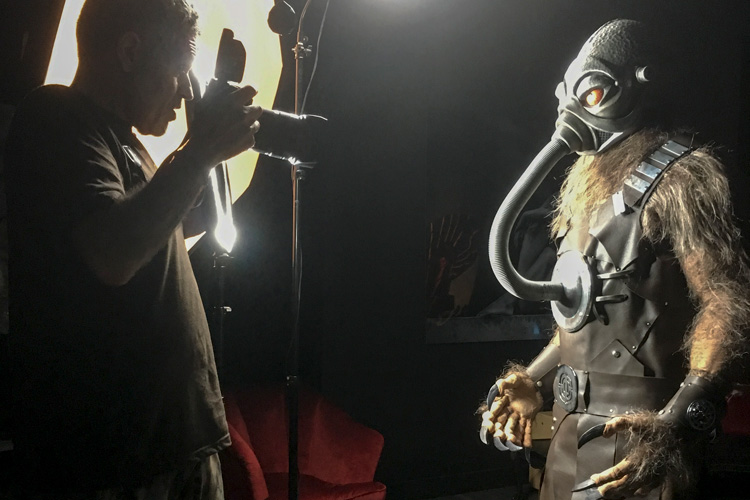 Needless to say, Dennys' final images are nothing short of stunning. In addition to the stills, we thought you'd like to see a video of all the actions that go into a photo shoot like this:
And while we aren't sharing these images just yet, we'd like to know who's your favorite character from the book?