How 1 Director and 66 Hollywood Actors
Solved Your Summer Reading
We asked Jim Meskimen, the director for the audiobook edition of Battlefield Earth to give us some of the details of what went into the making of the largest sci-fi audiobook in history and how it can solve your summer reading.
THE BACKSTORY LEADING UP TO BATTLEFIELD EARTH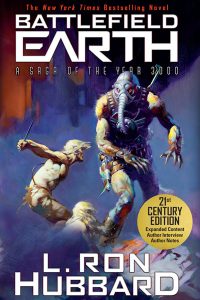 L. Ron Hubbard was one of the most prolific American writers of the twentieth century. He started off writing for adventure magazines and then spread to writing in every genre. His stories were often torn right from the pages of his own life and adventures as a pilot, as an adventurer, as an ethnologist, as a miner, and as a master mariner. And he would use all his experiences and create these very vivid stories because, of course, he'd lived them and he'd met the people in these environments.
Then at the dawn of the Golden Age of Science Fiction, he was approached by the famous editor John W. Campbell and asked to write stories for Campbell's new magazine, Astounding Science Fiction. Hubbard created stories that were speculative fiction, that involved science—he had a science background—and through his skills put personality and plot and character into what had been a pretty dry sort of scientific subject up to that point.
As a writer, Hubbard was really one of the first people to put a face and a heart to science fiction, which of course is what really propels it into modern times—the heart, the purpose, the humanity, that makes science fiction a fun adventure for everybody to participate in.
And to celebrate his 50th anniversary as a writer, he wrote Battlefield Earth.
A NEW AUDIOBOOK FOR NEW AUDIENCES
Technology for presenting stories and for the audiobook world has come far since the novel was first written and entertainment has just exploded with the digital age.
For this story, we wanted to take the best of today's technological advances in the audio world and apply them to make it vivid and exciting for people who just like to listen to stories. And so we threw everything into it with the sound effects, music, the mixing, the ambiance, all the different sounds, and qualities so the listener would have a very full experience of the story and really be inside of it.
Battlefield Earth is a thousand-page-plus book and there are 198 characters with speaking roles, so we obviously had to get a lot of variety of actors, not just have the same six actors doing everything which is how it's been done before. We also knew we wanted to put sound effects and music in it that was very cinematic and so wanted to cast it like a movie and that's what we did.
We got people that work for Disney, people that work for big films and animation, people that have amazing careers to participate in this project and bring it to life. There are 67 different actors that you'll hear on the Battlefield Earth audiobook and they fulfill all the different characters.
DIRECTING THE LARGEST SCI-FI AUDIOBOOK
I'd read Battlefield Earth, probably four or five times before I was asked to direct it, so I felt very confident I could wrap my wits around it. But for me Battlefield Earth is this very desperate kind of adventure and, indeed, it was hard to relax during the months that we worked on it. It's about this planet, Mankind, after a thousand years of alien domination where human beings are an endangered species and live in tight little bands in isolated places. They have no technology, they have no hope. They are the ultimate underdogs. It's our species, and there's very few of them left.

As the director, my job was to really create a set of integrated performances, performances that would fit together and not sound like they were all done on different days, which they were. It was extremely easy actually to do because the writing is so specific and so right and so consistent that I never really had a worry about it. Hubbard is very clear about who these characters are, how they act and you can tell how they're feeling by, by the descriptions.
And all the actors loved it. They had a great time because of the high drama and high emotions, you know, from total desperation, total grief to total exhilaration and fighting for one's life. Actors love to dramatize that stuff. We're ready to do it all the time. Usually, we're asked to do so much less. So I found that everybody was really exhilarated by the process of dramatizing this story.
THE EXPERIENCE FOR THE LISTENER
As an audiobook, Battlefield Earth is an immersive experience. There's always something to experience from what you're getting over the headphones or what you're getting listening in your car or wherever you listen to it. There is an undercurrent. There are ambiances. There are sound effects. There is the narration. There are the performances. And it doesn't really stop. It's this continuous flow coming at you of theatricality and adventure and experience and emotion.
I'm in love with the book Battlefield Earth, it's my favorite book. So I realized, I've got to put my stamp on this a little bit. I've got to try to be the guy that took the words and gave it to the audience and so they would have the experience that I think L. Ron Hubbard would want them to have.
And I worked with a great team and they were fantastic, so for me, it was a great honor. It would be like JJ Abrams gets handed, "Hey you get to do the next Star Wars movie." He had to feel really proud about that. That's the way I felt about Battlefield Earth.
We had great voice actors and you'll recognize their voices. We got Ralph Lister from Superman vs. Batman. We've got Fred Tatasciore from Marvel Avengers Assemble. We've got Scot Menville who's on Teen Titans. So these are all like the top, top voice people in the field of science fiction that we could possibly get.
These days we have these huge science fiction franchises. There's The Avengers or Star Wars and Battlefield Earth is a story of that caliber, of the caliber of Star Wars, of the caliber of The Avengers, but it's even greater. It's even more interesting, it's even more desperate and realistic.
I think Battlefield Earth may spoil you a little bit for science fiction because it is so incredible, so immersive and so vivid. And at over 47 hours, it solves your summer reading whether you're planning to stay home and relax or are traveling by car or plane to a vacation spot.