What Is It Like to Watch a Movie With Your Ears?
This blog is about audiobooks. And not just ordinary audiobooks. The Rolls-Royce brand of audiobooks. Those that envelope you in the brilliance of the author's writing combined with an aural feast of sounds, music and acoustic 3D dimensions.
For these are the productions that have been termed "audio dramatizations," "movies in the mind," "theater for the mind," "listening to movies" and even "audio movies."
Storytelling is one of the oldest art forms on Earth that eventually turned into written and printed books, only to return as an art form during the golden age of radio with full-cast performances as the main form of mass entertainment until the arrival of TV.
The audiobook industry started with "spoken word albums" or "talking books" in the 1930s with government programs designed for blind readers. But it was not until the 1970s when cassette tapes came into wide use and thus spawned "books on tape" audiobooks and the genus of the audiobook industry.
In 1997 Audible.com pioneered the world's first mass-market digital media player and the online downloadable audiobook. This new media surpassed cassettes and CDs in 2012 and currently holds 85% of the audiobook market.
Audiobooks on CD and online are presently the highest growing segment of the publishing industry with a 31% increase from 2015 to 2016.
The Rolls-Royce Brand of Audiobooks
In recent years full-cast recordings have become more popular—elevating the listening experience to 3D. This is thanks to innovative technology that makes it possible to create an aural environment and layers of sound and music that enhance the story.
These full-cast "movie" audiobook productions are far more elaborate and time and money consuming than audiobooks recorded by just one narrator. They signal an unprecedented advance in the medium and a new dimension in audiobook production.
Full-cast audio dramatizations go through a series of steps:
Casting voice talent and actors
Recording individual voice performances typically one person at a time and then editing these together.
Creating and developing the sound effects that are added to the track—usually done by a team of sound engineers.
Music scoring and recording is done and added.
Final mix, often done by a studio movie mixer.
Science Fiction – For Your Ears Only
Science Fiction, in particular, lends itself to aural creativity insofar as most of the sound effects and ambiance sounds are not of Earth but those of other worlds, deep space, distant planets and alien races. There is no limit to the types of sounds that can be created. And so it is that among the best Science Fiction books, many are reviewed but few are chosen for the full-cast, music and sound effects production.
So, what is it like to watch a Sci-Fi movie with your ears? To have everything you have in a movie except the screen with images of the future that could be.
We did research into Science Fiction full-cast "audio movies of the mind." Below is a listing of the most popular award-winning productions that are also the highest rated and ranked on the Audible.com website. We took select soundbites from LISTENERS (not the critics) to support our Rolls-Royce brand of audiobooks.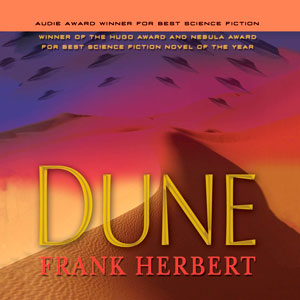 Dune by Frank Herbert
4.6 stars. AUDIE AWARD WINNER. The alien landscapes emerge in your imagination through the talents of a marvelous voice talent in this full-cast edition. Listen to a sample.
"I must have read Dune over 20 times, it was that good to me. I was a bit hesitant about the audiobook. But the narration and characterization of the actors were wonderful, giving the story a richness and fullness, a 3D immersive experience. It made a great story that much better." Charles, Audible Review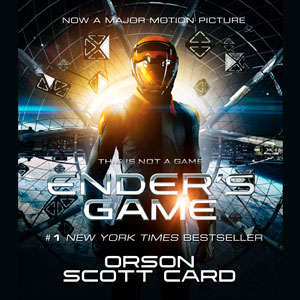 Ender's Game by Orson Scott Card
4.4 Stars, based on an original script written by Orson Scott Card, this audio play takes listeners through Battle School with Ender Wiggin as he trains to become the general who determines the fate of humankind. Listen to a sample.
"The idea of having voice ACTING 40 cast members rather than just narration with a handful is genius. Sound effects, 5.1 surround sound audio, it all really puts you in the middle of the story." S.P., Audible Review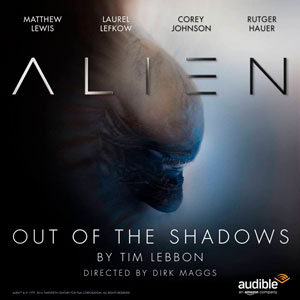 Alien, Out of the Shadows by Tim Lebbon, Dirk Maggs.
4.5 Stars, AUDIE AWARD WINNER. This is a first-class audio experience that gives you the claustrophobic feeling of being stranded in the depths of an alien-infested labyrinth of tunnels. Listen to a sample.
"Excellent production, very entertaining. The sounds, story, and lore were exactly like the movie just without, well… the movie." J.S., Audible Review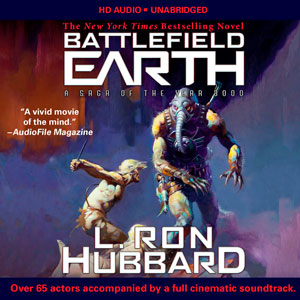 Battlefield Earth by L. Ron Hubbard
4.6 stars, AUDIE AWARD WINNER. Pulse-pounding mile-a-minute sci-fi action adventure that doesn't stop for a full 48 hours—or the equivalent of 24 2-hour movies. It is particularly popular with truckers as it keeps them entertained on cross-country treks. Listen to a sample.
"The production quality of this book is completely ruining all other audiobooks I have listened to. The sound effects make you feel like you're listening to a movie in your ears. It's like other audiobooks are a picture." T.H., Audible Review