Best Sci-Fi Audiobook: Directing Battlefield Earth
Actor and director Jim Meskimen shares his experience bringing one of the best sci-fi audiobooks to life: Battlefield Earth.
I first read Battlefield Earth by L. Ron Hubbard when it came out in paperback in the '80s. I found it impossible to put down, literally missing stops on the subway in New York City, where I lived at the time, because I was so transported by the action. It is truly an epic science fiction novel.
It became a favorite story that I would return to again and again over the years for the sheer pleasure of reading it. I'm not alone in loving Battlefield Earth; other fans include top sci-fi authors, like Robert Heinlein, who called it "A masterpiece" and Kevin J. Anderson of the Dune series, who says its "Non-stop and fast-paced."
So, a couple decades later when I was approached to direct the audiobook version, I jumped at the chance.
Although the book on tape version had been recorded before as an abridged audiobook, with actor Roddy McDowell narrating and doing all the voices, we set out to create a totally immersive, high quality, multi-cast unabridged audio experience. With the help of some truly amazing actors, musicians, and audio technicians, I believe we succeeded. You can hear the first 20 minutes here:
Hardly a week goes by that someone doesn't come up to me and tell me how much they enjoyed listening to it, which for a 47 1/2 hour long audiobook is pretty extraordinary!
The actors I had the honor to direct were top of the line, major names in animation, voice-over, and audiobooks—all award-winning stars in their own right. I learned so much from them, and about the art of narrating, which I now use in narrating for other publishers.
Battlefield Earth has been compared to the Star Wars saga in its wealth of memorable characters and intriguing plot. It is just as pertinent today as it was when it first came out in the '80s. If you love sci-fi in its purest form, I strongly recommend you pick up a copy and listen to our Audie award-winning production. It is one of the best books on Audible with over 2,400 listeners who rated it an average of 4.6 stars. And Audiofile Magazine selected it for the Earphones Award and calls it "a vivid movie of the mind."
Warning: you may find yourself taking long, unscheduled drives, or staying in your car while parked in the driveway, just to savor this gripping tale from a true master of the genre.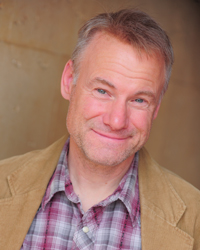 As a professional actor for nearly thirty years Jim Meskimen has appeared in the films Apollo 13, The Grinch, Frost/Nixon, The Punisher, Not Forgotten, There Will be Blood and many others. Some of Jim's TV credits include Friends, Whose Line is it, Anyway?, Fresh Prince of Bel Air, Castle, Lie to Me, and Rules of Engagement.
In the '80s and '90s, he had a thriving career as a man-on-the-street interviewer for improvised TV and radio campaigns for grocery stores, bank cards, coffee makers, and a host of other clients that won awards for several major advertising agencies.