Does Space Opera Influence our Future?
The way I see it, space opera books have influenced real-world progress to the stars.
I can remember a time as a child when I thought we had gone to the moon. That was before 1969 when Apollo 11 first landed on the moon. I wonder how many other people believed it was possible—driving public support to get there—because they had been inspired by the masters of science fiction and their space opera books.
In our day-to-day existence filled with work, a boss we may not like, and more bills than the number of Neptune's moons, earthly demands can really limit your viewpoint. But sitting down with a good space opera book opens up our universe! Stories written with intergalactic themes of alien invasion, space travel, and military battles for planets and moons have long inspired real progress to the stars.
As L. Ron Hubbard said in the introduction to Battlefield Earth,
"Science fiction does NOT come after the fact of a scientific discovery or development. It is the herald of possibility. It is the plea that someone should work on the future. Yet it is not prophesy. It is the dream that precedes the dawn when the inventor or scientist awakens and goes to his books or his lab saying, 'I wonder whether I could make that dream come true in the world of real science.'"
While our nations fight a pandemic war against a new virus and individuals are working to rebuild the economy, the one bright spark has been the successful journey to the international space station. It was so inspiring to see SpaceX and NASA team up to send people to the stars. Events like this emphasize how important space opera is, as it pushes for real travel amongst the stars and hope for our future.
At the top of my reading list is the epic space opera Battlefield Earth by L. Ron Hubbard. This is one of the few sci-fi books I have enjoyed so much that I've read it twice. The characters draw you in. The good guys are the good guys and the bad guys play mean and dirty, some blatantly while others work their evil more covertly. You can read the first 13 chapters or listen to the first hour of the audio for free (this is one of the best sci-fi audiobooks).
Initially, Jonnie finds himself captured and starving, but force alone will not win his freedom against sadistic aliens standing nine feet tall and weighing over a ton. He must withstand their abuse while he studies their ways and learns about his enemy.
Through his never-say-die drive and resourceful strategy, he has to lead the few human survivors in a revolt that has almost no chance of vanquishing the evil aliens—yet doing anything else means a lifetime of grief and despair. It is this esprit de corps and the power of the human spirit that is so inspiring.
What starts with an alien invasion on Earth and the struggle for freedom, soon erupts across 16 galaxies with soldiers, space battles, and interstellar travel (both spaceships and teleportation) in a science fiction book of epic proportion with an unexpected intergalactic twist.
I was captivated by how the battle went from open warfare to the political arena spanning alien cultures and politicians. Jonnie can't understand these men (or should I say, space aliens?) and their callous and often devious nature, but the future of every Earth inhabitant is in his hands and he is forced to step up to the challenge in what turns out to be an even greater threat.
Will Jonnie succeed in a field he knows so little of, inhabited by bankers and politicians who throw countries and planets around like a battlefield soldier throws lead? Well, I can't give away everything; you'll just have to read it yourself. As it is one of the best space opera books I have ever read, you won't regret it.
One of the reasons the book comes across so well is that L. Ron Hubbard didn't just read books to learn about war, the military, and international intrigue. He was the son of a U.S. Naval officer, a member of the National Guard at age 16, and served as a commander of a convoy escort in World War II. Combined with his science and engineering background, he had enough real-world experience for two lifetimes. He lived the stories he wrote about.
Good space opera helps open up the world we live in and expands our day-to-day view to the galaxy beyond. Nothing is possible until someone dreams it, and that dream is often lead by the great writers of space opera—the men and women who give us hope that there is so much more to life.
If you haven't read it yet, don't miss the chance to read the first 13 chapters or listen to the first hour of the audio for free (amazing sci-fi audiobook).
I'd love to know which space opera book is your favorite.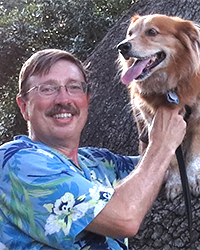 John Carey has degrees in Chemical Engineering and Computer Science from Texas A&M University which paid the bills while he crafted his writing skills at nights and weekends. Of all of his writing, John's non-fiction articles on the overmedication of children have been the most circulated. John has just published his second book, Not Worthy of the Air you Breathe set in the future where nations have taken a cue from the business world and terminate their low performing citizens at the end of each year.