Sci Fi Audiobooks for Summer Reading
Guest blogger Jim Meskimen
Battlefield Earth, the award-winning Sci Fi novel by L. Ron Hubbard, was made into an audiobook that I had the very great honor to direct. Since its release four years ago, I have often heard it called "the best audiobook in the world."
(Full disclosure—I have NOT listened to every audio book in the world. But I do know that Battlefield Earth is one hell of a great audio experience. How do I know? Because of all the fans who have made it a point to seek me out and tell me.)
An interview with Jim Meskimen on Battlefield Earth as one of the best Sci Fi audiobooks for summer reading
First, the story. L. Ron Hubbard was celebrating his 50th anniversary as a writer when he penned this sprawling sci fi opus, and was not only at the top of his game, he was exploring new heights. It's powerful, moving, original, relevant, thought-provoking, and always pulls you forward into the next scene at break-neck pace. It rightly deserves its place amongst the great masterpieces of Sci Fi.
Then the performers. We chose to use a large cast of voice talent to bring the characters to life, and I had the luxury of directing true masters of voice acting from the worlds of animation, radio, and audio books. It was truly an All-Star team.
Then, the technical production. Battlefield Earth is the incredibly lush soundscape it is because of the literally thousands of hours put into it by a behind the scenes crew that added all the authentic sound effects, the original music score for the entire 47 ½ hour "movie in your mind," as well as the kind of dynamic sound design and mixing that only big blockbuster movies usually have. The result is that the listener can "see" the scenes vividly and feel the incredible emotions that the story evokes in a way that they wouldn't ordinarily be able to do.

A video of how one of the best Sci Fi audiobooks was made
Four years have passed since its release, but Battlefield Earth will, I believe, always be a sensational, timeless and immersive experience to listen to, with enough action, suspense and pure science fiction to satisfy listeners of any age or any future time.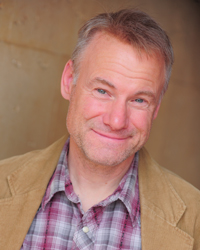 As a professional actor for nearly thirty years Jim Meskimen has appeared in the films Apollo 13, The Grinch, Frost/Nixon, The Punisher, Not Forgotten, There Will Be Blood, and many others. Some of Jim's TV credits include Friends, Whose Line is it, Anyway?, Fresh Prince of Bel Air, Castle, Lie to Me, and Rules of Engagement.
In the 1980's & 90's he had a thriving career as a man-on-the-street interviewer for improvised TV and radio campaigns for grocery stores, bank cards, coffee makers, and a host of other clients that won awards for several major advertising agencies.