Summer Reading List
Guest blogger Thomas McNulty
The summer reading season is here, and all of us die-hard, avid readers can't stand the idea of relaxing without a good book, so I decided to share my book recommendations for your summer reading list. No matter where you read this summer, whether poolside or beach reads (or stuck at home), choosing the right book is vital to entertain ourselves while nurturing our souls.
If you're like me, you might have a list of books that you intend on reading but haven't picked up yet. For those of you looking for something fresh and exciting, I recommend the following ten titles, all of which are immensely popular and must-read books. These books might fall into the category of "I've heard of it, but I haven't read it yet!" And they are certain to answer the question "what book should I read next?"
Chocolat
by Joanne Harris
A bestseller since it was first published in 1999 and made into a successful film starring Juliette Binoche and Johnny Depp, this magical tale of a strange woman and her six-year-old daughter who open a chocolaterie is sure to keep you enchanted.
"An utterly delicious novel, coated in the gentlest of magic, which proves—indisputably and without preaching—that soft centers are best." —Amazon Review
Outlander
by Diana Gabaldon
Currently setting records as one of television's most popular shows, this first book in the series is a must-have for fans that enjoy romance, fantasy, and adventure. I couldn't put it down!
"Marvelous and fantastic adventures and romance. Perfect escape reading." —San Francisco Chronicle
Hatchet
by Gary Paulsen
Now widely viewed as a classic of young adult fiction, this wilderness survival tale is a pulse-pounding and heartfelt story that you won't soon forget.
"Powerful. Among the best of his books." —Entertainment Weekly
The Call of the Wild
by Jack London
First published in 1903, this gripping story has never been out of print. Recently made into a film starring Harrison Ford, the story of a sled dog named Buck remains one of the most riveting adventure tales in literary history.
"The story of a wolf-dog who endures great cruelty before he comes to know human kindness." —Booklist
Battlefield Earth
by L. Ron Hubbard
This ultimate science fiction adventure pits the young hero Jonnie Goodboy Tyler against the evil Terl and the Psychlos in a sprawling fast-action tale that will keep you on the edge of your seat. One of my all-time favorites! You can download the first 13 chapters or the first hour of the audiobook for free.
"This has everything: suspense, pathos, politics, war, humor, diplomacy, and intergalactic finance." —Publishers Weekly
Andersonville
by MacKinlay Kantor
This 1955 Pulitzer Prize-winning novel follows the lives of prisoners, soldiers, and farmers in Georgia during the American Civil War. Its epic scope, strong characterizations, and imagistic writing have helped make this an unforgettable, moving book.
"The greatest of our Civil War novels." —The New York Times
A Knight in Shining Armor
by Jude Deveraux
If you haven't read one of Jude Deveraux's bestselling romance novels, then start here. A classic love story that never goes out of style, this poignant and sensual tale is a delightful fantasy.
"A glorious love story that spans centuries, worlds, and souls. [It] will capture your heart—and hold it." —Chicago Daily Herald
The Girl Who Drank the Moon
by Kelly Barnhill
This award-winning fantasy has quickly become a favorite for readers of all ages who love mystery and magic. Superbly written, a story about a baby who gets fed moonlight instead of starlight which gives her magical powers. Unforgettable!
"Expertly woven and enchanting." —School Library Journal
Winter's Tale
by Mark Helprin
This remarkable fantasy is known for its lush writing where a future steampunk New York City is rife with street gangs at odds with Peter Lake. There's even a magic horse!
"A gifted writer's love affair with the language." —Newsday
American Gods
by Neil Gaiman
A wild road trip involving a character named Shadow who has just been released from prison. This evocative and complex fantasy offers a roller-coaster ride complete with eccentric characters and a war involving new and ancient Gods.
"Mystery, satire, sex, horror, and poetic prose." —Washington Post Book World
There you have it, ten books you may have heard of, but haven't read yet!
They are diverse. You'll find funny stories, feel-good books, and books that make you think. And every one is a page turner.
Best of all, if you start now you can probably read several of these before the first frost! The benefits of reading, of course, are well-documented and proven effective in helping reduce stress.
Equally as important as the physical benefits of "feeding your brain," is the simple fact that great books are emotionally satisfying while providing us with entertainment that both teaches us and nurtures us. That's a win-win situation.
Reading is a journey of discovery, and your adventure begins now!
Stay well, stay happy, feed your brain—read a book!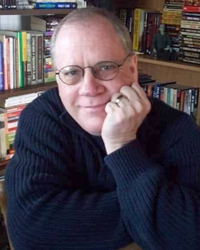 Thomas is a graduate of Columbia College in Chicago and an outspoken proponent for the advancement of literacy.  His first book was a biography of Errol Flynn and his western adventure novels include Trail of the Burned Man, Wind Rider, Death Rides a Palomino, Showdown at Snakebite Creek, and Gunfight at Crippled Horse. He lives in Illinois and you can visit and chat with him at tommcnulty.blogspot.com.